Tour Programs • Tariff • Book This Tour
Where else can you relax in comfort & witness the history of India passing by......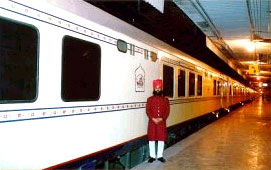 It's a journey worthy of kings. No wonder the experience is labelled the Palace on Wheels. The elegant interiors of this luxury train along with delectable cuisine and personalised service, all exude an exclusive charm. Every saloon has its own personal attendant or 'Khidmatgar' attired in ethnic Rajasthani costume who ensures your journey is comfortable and enjoyable. Fully air- conditioned, the 14 deluxe saloons are equipped with excellent amenities like channel music and intercom which enhance the pleasure of travelling. Each saloon is a combination of 4 twin bedded chambers with attached toilets running cold & hot water and shower facilities.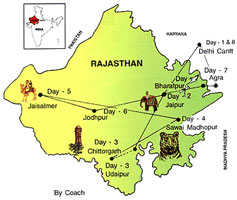 Colourfully attired men and women garland the guests and accord a ceremonial welcome at the Delhi Cantonment Railway Station from where the journey starts. For the next seven days, the guests live in regal splendour as the train winds its way to the Pink City of Jaipur, magical desert cities Jaisalmer and Jodhpur, fascinating Sawai Madhopur, historical Chittaurgarh and Lake City Udaipur, Bharatpur and Agra, the charming city of the Taj Mahal. The journey of a lifetime begins as the Palace on Wheels pulls gently out of Delhi into the fascinating world of Rajasthan.

The 14 coaches of the Palace On Wheels are named after former Rajput states. Each
evokes visions of those royal kingdoms. The names are romantic, mesmerizing... Kota, Jaipur, Udaipur, Jaisalmer, Jodhpur, Bikaner, Alwar, Sirohi, Kishangarh, Bundi, Dungarpur, Bharatpur, Jhalawar and Dholpur. It has been rated one of the ten best luxurious train journeys in the world.
Palace On Wheels is a joint project of the Ministry of Railways. Government of India and Rajasthan Tourism Development Corporation, supported by the Department of Tourism, Government of India
Facilities :


4 coupes in each coach
Wall to wall carpeting
A Lounge car with a well stocked bar and two restaurant cars
Maharaja and Maharani serving Continental
Indian and Rajasthani cuisine
All of which make your journey a memorable experience

The Maharaja and Maharani restaurants offer seating arranged in groups of twos and fours near the windows. Chefs in the attached pantry prepare Continental and Indian specialties, with an emphasis on the cuisine of Rajasthan.